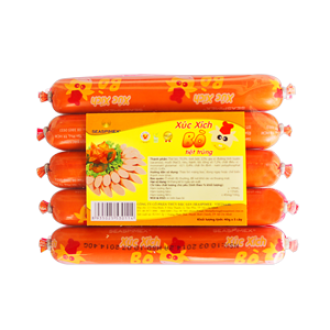 Beef Sausage 40g x 5
Product name: Beef Sausage
Net weight: (40gr x 3)/pack; (40gr x 5)/pack; (40gr x 10)/pack; (70gr x 5)/pack.
INGREDIENTS:
Beef: 70,0%; Starch: 22%;
Spices: 7,2%, including
Sugar (sacaroza), Salt (NaCl), pepper, Onion, Garlic
Mononatri glutamat – 621: 0,4%
Natri polyphosphat (452i): 0,4%.
USE INSTRUCTION:
Should be immediately used since opened
STORAGE INSTRUCTION:
Store in a cool and dry place.
Best before:
4 months since manufacture date
Send us your inquiry for this item!
SIMILAR PRODUCTS FOR DOMESTIC MARKET
SIMILAR PRODUCTS FOR INTERNATIONAL MARKET